IP PBX enable you to connect traditional PSTN to voip device such as IP Phone, mobile SIP Phone,. PC, Gateway.... which means you can save phone cost and diverse your working force around the world.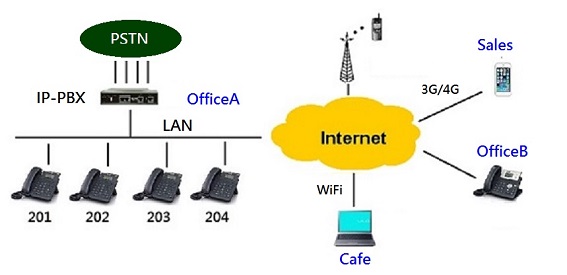 EX : Your head office has 10 workers, and you have a branch office in other city. You install a small size IP PBX in head office which has 4 PSTN lines for customers to call in.
The phone is IP Based phone set which connect to local Lan line. The other sales office only put some IP Phone there and register to IP PBX as an extension of head office.
The sales person often travel to different cities, so they use PC or Mobile phone and make internal calls to office or outside calls to customers occasionally which save them a lot of phone cost.

Part of the IP PBX models:
Models
Mosa4603 plus
Mosa460

4

plus
Picture
Analog Ports
˙1 FXO+2 FXS

 
˙4 FXO

˙4 FXS

˙4FXO+4FXS

 
SIP ports
˙24 SIP Lines

˙4 SIP Trunks

 

˙24 SIP Lines

˙4 SIP Trunks

 
Models
Mosa460

8

plus
Mosa4616 plus
Picture
Analog Ports
˙8 FXO

˙8 FXS

˙4FXO+4FXS

˙16 FXO

˙16 FXS

˙8FXO+8FXS

 
SIP ports
˙48 SIP Lines

˙8 SIP Trunks

 

˙48 SIP Lines

˙8 SIP Trunks

 
PBX Functions
Auto-Attendant DISA
Network Operator
Inbound Call、Outbound Call、Transit Call
Call Pickup
Call transfer
Call Forward
Group Ring
3-Way conference
Trunk Group
Baring
Speed Dial .....
CDR
Recordings ( Options )